PALEOCHORA ART WEEK
The next Paleochora Art Week will be in 2019. This year we will celebrate again the
PALEOCHORA ART SUMMER!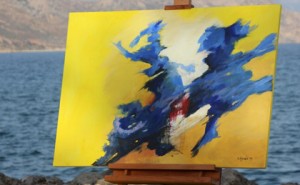 Throughout the summer there will be different exhibtions in and around Paleochora, which will all be organised by the artists themselves.
During the summer you will also be able to see paintings, photographs and sculptures around the town in cafes, tavernas, bars and the Stony Boulevard. It will not be so concentrated as it is during the Art Week, but for people who are not able to be here at the time of the Art Week in September, they will now be able to look at and enjoy the work of many interesting artists that live in and around Paleochora.
For the whole summer there is also our Permanent Art Points, where you can go to visit the artists at work and have a look at their artwork, as well as look around their workspaces. We have been informed already of several plans of exhibitions and events by our artists, and we are sure that there is more to come …
You can contact us easily via email: paleochora-art-week@outlook.com. 
Here are the films of Piet Freitag about the Underwater Exhibition 2016 in
greek, english and german,  NeaTV (Paleochora Art Week 2016) and the Paleochora Art Week 2015 and Underwater Art Exhibition 2015.