PALEOCHORA ART WEEK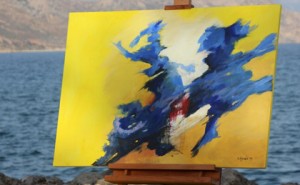 First the good news is: The Paleochora Art Week will take place again from 8th until 22th of June. The bad news is, the ruinous Town Hall is closed for this season, but the very best news is, we found a new display area in the old Police Station. There are three rooms, a big corridor, two prison cells and a balcony in front of the street for sculptures, life music … The house will be renovated for the Art Week, so we will have a very nice and very cool display area.
Also our partner, the Art Flow Gallery will offer space for artists. Further we will use the Stoney Boulevard for sculptures. This year we will concentrate the exhibition to this three places, which means no more Art Points.
This year you will see about 25 artists during the exhibition with paintings, photographs and sculptures.Also a program accompanied by the Art Week:
Artist at Work: Visitors can watch the artists, seeing how the art is created by each artist.
Art for Kids: Workshops by artists for the children

Opening and Closing Parties, Life Music, …
You can support us actively with a donation starting at 5 Euro.
For the whole summer there is also our Permanent Art Points, where you can go to visit the artists at work and have a look at their artwork, as well as look around their workspaces.
You can contact us easily via email: paleochora-art-week@outlook.com. 
Here are the films of Piet Freitag about the Underwater Exhibition 2016 in
greek, english and german,  NeaTV (Paleochora Art Week 2016) and the Paleochora Art Week 2015 and Underwater Art Exhibition 2015.