PALEOCHORA ART WEEK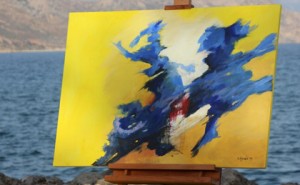 The Paleochora Art Week is an exhibition with local and internatial artists in Paleochora with paintings, photographs and sculptures. 2019 was the last and the fifth time. Then came Corona.
For the future we need a new space, because the ruinous Town Hall closed end of 2018. So we are looking for a new place with enough space for about 30 artists and life music.
If you want to see one of our artists and their work, visit our Permanent Art Points,
You can contact us easily via email: paleochora-art-week@outlook.com. 
Here are the films of Piet Freitag about the Underwater Exhibition 2016 in
greek, english and german,  NeaTV (Paleochora Art Week 2016) and the Paleochora Art Week 2015 and Underwater Art Exhibition 2015.