Press Release for 2019 in (greek – soon), english and german
Paleochora Art Week back again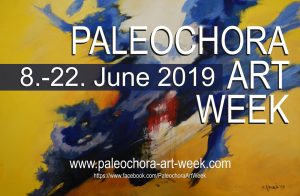 After a break of two years, Paleochora Art Week returns with a new concept, new showrooms and a new event date.
From the 8th of June to the 22nd of June, 24 artists, all living in Crete but from 10 different countries, will exhibit their works in the old police station in Paleochora. This year, the exhibition will once again show a wide spectrum of photography, paintings and sculptures. The opening will take place on the 8th of June at 8 pm. The old police station is open every day from 7 pm to 11:30 pm.
The closing of the town hall, due to its fragility, challenged us to find a new exhibition space. But in Paleochora there are many friends of art and so the old police station was offered to us as a venue. This old classicist house has a long history and is an exceptional exhibition venue with two prison cells.
Claudia Boldura and her Art Flow Gallery are partners of Paleochora Art Week. She provides additional exhibition space for the artists in her gallery. Her motto is "feed your eyes" and this is possible daily from 6 pm to 10 pm. The gallery is closed on Mondays.
As in previous years, large sculptures will be displayed along the stony boulevard. Kostas Liatakis, a sculptor from Paleochora, is happy that the sculptures will again be placed outside under a bright blue sky. "In this way we continue to follow our idea of bringing art to people, where they are in everyday life. And in summer it's the sea," says Gerhard Stelzhammer, sculptor and like Kosta a member of the organization team. So the Paleochora Art Week this year is concentrated on three exhibition venues.
A varied supporting programme accompanies the Art Week with lots of live music from soul, jazz, tango and rock 'n' roll. Kostas Kalives will play Greek blues – the Rembetiko – to the guests and will support the Paleochora Art Week just like the other musicians.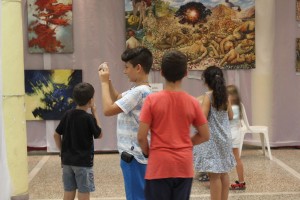 Once again there will be a special program for children. They can turn into a tiger or a flower, Shakti makes sure of that with her hand and skin painting. Those who like to create themselves can make a wooden amulet and for the youngest the kindergarten teacher and artist Efi Fiotaki will offer a very special painting event.
But adults can also be creative. On two evenings, Claudia Boldura invites us to paint a picture together in the Art Flow Gallery. Those who prefer to watch can witness the process of making a mermaid sculpture by Gerhard Stelzhammer at the stony boulevard.
The Paleochora Art Week is a network of artists, a non-profit organization, without its own money. Since there are some cultural events in June this year, the Art Week expected that the support of sponsors would be rather difficult. "But to our surprise, we can say that Paleochora loves the Art Week. It has been very popular with locals and tourists for years. We got enough support to be able to realize this special art event," says Efi Fiotaki from the organizing team. Art Week says "Ευχαριστούμε" (thank you!) and invites everyone to drop by to see the artworks and engage in conversation with the artists.
press contact
Conni Lins, Efi Fiotaki
paleochora-art-week@outlook.com
www.paleochora-art-week.com
https://www.facebook.com/PaleochoraArtWeek/
Paleochora Art Week kehrt 2019 zurück
Nach zwei Jahren Pause, kehrt die Paleochora Art Week mit einem neuen Konzept, neuen Ausstellungsräumen und einem neuen Veranstaltungszeitraum zurück.
Vom 8. Juni bis zum 22. Juni werden 24 Künstlerinnen und Künstler, allle auf Kreta lebend, doch aus 10 verschiedenen Ländern stammend, ihre Kunstwerke in der alten Polizeistation in Paleochora ausstellen. Die Ausstellung zeigt auch dieses Jahr wieder ein breites Spektrum aus Fotografie, Malerei und Bildhauerei. Die Eröffnung findet am 8. Juni um 20 Uhr statt. Die alte Polizeistation ist jeden Tag von 19 bis 23:30 Uhr geöffnet.
Die Schließung der Stadthalle, aufgrund ihrer Baufälligkeit, stellte uns vor die Herausforderung einen neuen Ausstellungsraum zu finden. Doch in Paleochora gibt es viele Freunde der Kunst und so wurde uns die alte Polizeistation als Veranstaltungsort zur Verfügung gestellt. Dieses alte klassizistische Haus hat eine lange Geschichte und ist ein außergewöhnlicher Ausstellungsort, der sogar mit zwei Gefängniszellen aufwartet.
Claudia Boldura ist mit ihrer Art Flow Gallerie Partnerin der Paleochora Art Week. Sie stellt in ihrer Gallerie weiteren Ausstellungsraum für die Künstler zur Verfügung. Ihr Motto ist "feed your eyes" und das ist täglich von 18 bis 22 Uhr möglich. Montags bleibt die Gallerie geschlossen.
Wie in den letzten Jahren werden große Skulpturen an der Steinstrandpromenade aufgestellt. Kostas Liatakis, ein aus Paleochora stammender Bildhauer freut sich, dass die Skulpturen wieder draußen unter strahlend blauem Himmel aufgestellt werden. "So bleiben wir unserer Idee treu, Kunst zu den Menschen zu bringen, also dort wo sie im Alltag sind. Und im Sommer ist es nun mal am Meer," so Gerhard Stelzhammer, Bildhauer und wie Kosta tätig im Organisationsteam. So ist die Paleochora Art Week dieses Jahr auf drei Ausstellungsorte konzentriert.
Ein abwechslungsreiches Rahmenprogramm begleitet die Art Week mit viel Live Musik von Soul, Jazz, Tango und Rockn'Rock. Kostas Kalives wird den Gästen griechischen Blues – den Rembetiko – vorspielen und unterstützt so, genau wie die anderen Musiker die Paleochora Art Week.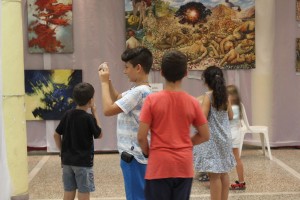 Wieder dabei ist auch ein spezielles Programm für Kinder. Sie können sich zu einem Tiger oder einer Blume verwandeln, dafür sorgt Shakti mit ihrer Hand- und Hautmalerei. Wer selber gerne Hand anlegt, kann ein Holzamulett anfertigen und für die Jüngsten wird die Kindergärtnerin und Künstlerin Efi Fiotaki ein ganz spezielles Malevent anbieten.
Aber auch Erwachsene dürfen kreativ werden. Claudia Boldura lädt an zwei Abenden ein, gemeinsam ein Bild in der Art Flow Gallery zu malen. Wer lieber zuguckt, kann bei Artist at Work, z.B. Gerhard Stelzhammer an der Steinstrandpromenade zuschauen, wie er eine Meerjungfrau bildhauert.
Die Paleochora Art Week ist ein Netzwerk von Künstlerinnen und Künstlern, eine Non-Profit Organisation, ohne eigenes Geld. Da in diesem Jahr im Juni einige kulturelle Events sind, hat die Art Week damit gerechnet, dass die Unterstützung durch Sponsoren eher schwierig würde. "Doch zu unserer Überraschung, können wir sagen, Paleochora liebt die Art Week. Sie ist seit Jahren bei den Einheimischen und bei vielen Touristen sehr beliebt. Wir haben genügend Unterstützung bekommen, um dieses besondere Kunstevent umsetzen zu können", so Efi Fiotaki aus dem Organisationsteam. Die Art Week sagt "Ευχαριστούμε" (wir danken!) und lädt alle ein, vorbeizuschauen um die Kunstwerke zu sehen und mit den Künstlern ins Gespräch zu kommen.
Pressekontakt
Conni Lins, Efi Fiotaki
paleochora-art-week@outlook.com
www.paleochora-art-week.com
https://www.facebook.com/PaleochoraArtWeek/
16 days Paleochora Art Week 2016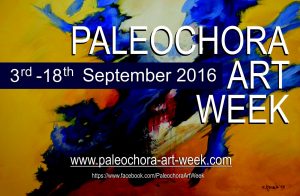 Paleochora Art Week is excited to announce that on the 3rd of September the greatest gallery in Crete opens its doors for the fourth year. Bringing art to the people. One of the largest collective art exhibitions in Greece.
Starting with a great opening party at 7:30 pm the 3rd of September in the Town Hall of Paleochora. 40 artists from around the world will take part, exhibiting their artwork up until 18th of September, in the Town Hall and in the 23 Art Points of Paleochora, in the bars, cafes, taverns, hotels and at the beaches around the village.This year there is again a tombola. Anyone purchasing a ticket has an opportunity to win a piece of art from one of the artist. The lottery will be drawn at the Closing Party at 18th of Sept.
Paleochora Art Week started four years ago and lasted for one week, so hence the name,  however at the end of this week, people asked for a longer time to see all the paintings, photographs and sculptures. Now the Paleochora Art Week is a 16 day event with extra attractions. The greatest attraction is the Underwater exhibition at Methexis Beach. This is the second year that visitors can snorkel in the sea and view the exhibition. This year, 13 artists will display a dazzling array of paintings, photographs, sculptures and other things, there were not expecting. Look at the documentation film from last year on youtube. And for people, coming this year. and who like it more dry, could see a film in the Town Hall.
Art Week offers a program with exciting events: underwater music, Art for Kids, Artist at Work and guided Art Walks. Who likes to get into a conversation with an artist, should visit one of our Artist at Work events. There you can watch how the artists create their paintings or sculpture. Three painters and one sculptor will work and explain how they use material or techniques. Look at the program and don't hesitate to speak with the artists.
For visitors who want to know more about artists, the art exhibited and Art Week should look at the program for the guided Art Walks in different languages.
Who want's to shake a leg has different possibilities:at the Art Week Party (7.9.), at the Dance Marathon (10.9.) or during a creative dance workshop (11.9.). Who likes it more easy can have a look at Buthoh Dance (17.9.).
The Paleochora Art Week is a non-profit organization, organized by a few artists and financed with the money of the artists and by the support of local sponsors.
With complimentary admission to the Town Hall and all Art Points.
More information you will find at the webpage www.paleochora-art-week.com or at Facebook.
Here the Underwater exhbition film:

Press Release Contact
paleochora-art-week@outlook.com
Film Paleochora Art Week is ready
"Thousand's of visitors, 40 artists from around the world, 20 Art Points, 1 town" so starts the brand new film of the Paleochora Art Week. The filmmaker and artist Piet Freitag, who lives in Plakias, documents in this film the happenings of Paleochora Art Week 2015. 16 days of art, which includes streetpainting, art walks, art for kids, live music … And an Underwater Art Exhibition with paintings, photographs, sculptures, and an instalation of an underwater kafenion or a huge mandala, all under water. Only the underwater music, which was also one highlight, you can't hear in this film.
This documentary shows how Paleochora became a great Art Gallery for 16 days with a central display point in the Town Hall and 40 artists with a lot of amazing artwork.The film gives an image of Paleochora these days. Highlighting the programmed events as the opening, the tombola and Astrini Night. Giving you a glimps of the working artists and the different Art Points, which are the tavernas, hotels, cafe bars or the beaches of Paleochora. Live music and art workshops.
The Paleochora Art Week is a special event which takes part every year in the beginning of September. This year from 3rd until 18th of September 2016. Paleochora Art Week is organized by artists for artists and is a non profit event. The Art Week wants to bring art to the people, connect artists and show how colorful the "art scene" is in and around Paleochora.
All artists, who wants to take part can apply until 30th of April. More information www.paleochora-art-week.com.
If you have missed the Paleochora Art Week last year, so have a look at the film and you will get the atmosphere of the Paleochora Art Week. And who wants to see more art under water can see it in a separate film. A photogallery you can find at the webpage.
Press Release Contact
Paleochora-art-week@outlook.com
Dimitra Bitzanki (greek), 693 2302 388

Margaret Brady (english) 0030 697 034 94 54

Corneli Lins (german) 0030 28 230 41 991
Underwater at the Paleochora Art Week
About 400 people were last Saturday at the Town Hall in Paleochora visiting the opening party of the Paleochora Art Week 2015. The visitors were excited by the quality of the artwork.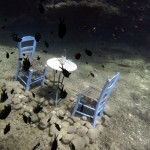 What is the Paleochora Art Week? In the Art Week 40 Artists display their artwork at 20 Art Points, which means in tavernas, hotels, bars and at the beaches of Paleochora. And the big surprise for all is for the very first time there is an underwater exhibition at Art Point Methexis Beach.
"I was at Methexis Beach and when I stood at the footpath I didn't see anything", said one local woman. "Yes, this is right, because you have to take your snorkel and go into the water and there you will find sculptures, photos, paintings and another surprises you don't except there," explains Gerhard Stelzhammer, Sculptor and the creator of the Underwater Exhibition. "It is amazing to see so many people snorkeling, some of them the first time in their life", said Gerhard. And there are many things to explore: A huge mandala, an underwater kafenion, a tree of love and wishes, photos of a bike in a desert, paintings of people in love, eyes which are looking at you, sculptures on the ground and in caves…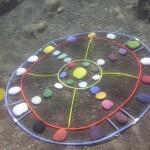 If this was not enough there is also music in the sea. Between 5 and 7 pm Hans Mannooh, who has made the colourful mandala also plays music under water. For this he has built underwater loudspeakers.
And for people who don't like to snorkel they can see films of the underwater exhibition in the Town Hall. "The film is like a piece of artwork. I haven't seen a film like this before. The film shows wonderful colours of the sea and the amazing artworks. It is very exciting", said a visitor coming from Leeds.
And on Saturday the 12th and 19th there will be an event, where people are invited to come with floating clothes or costumes and take part in a floating happening beneath the horizon. It will be filmed and later you can see the film in the Town Hall.
The artwork of the underwater exhibition is made by Gerhard Stelzhammer, Efi Fiotaki, Elena Strubakis, Hans Mannooh, Kostas Liatakis, Silvia Forrer, Smaragda Smaragdi, Sofia Markoulakis and Vasilis Patsourakis.
More information you will find at webpage www.paleochora-art-week.com or on Facebook.
Press Release Contact
Paleochora-art-week@outlook.com
Efi Fiotaki (Greek), 0030 6981 225898
Gail Wareham, (English) 0030 694 346 3920
Cornelia Lins (German) 0030 28230 41991
Paleochora Art Week 2015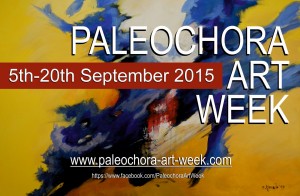 The greatest gallery on Crete opens their doors on the 5th of September with a great opening party at 7:30 pm in Paleochora's Town Hall. Attending the Paleochora Art Week are 40 artists, displaying their artwork in several disciplines up to the 20th of September: Painting, Photography and Sculpture.
"We want to bring art to the people and so we have 20 Art Points around Paleochora. So visitors can go around the town and see artwork in different Art Points, such as tavernas, bars, hotels or at the wonderful beaches of Paleochora", so says Efi Fiotaki, painter and one of the organisers of the Art Week. "It is like a paper chase for art and you can explore different places and see a lot of artists from 10 different countries. Most of them are living on Crete, coming from Paleochora, Plakias or Chania", explains Gail Warham, painter and organiser.
The central display point, where all artists have up to five pieces, is the Town Hall on the Main Street. The Town Hall is open every evening from 7 to 11:30 pm and this year for the first time on Sunday mornings from 11 am – 1 pm.
Also for the first time there is an Underwater Exhibition at Methexis Beach. "You can go with a mask and snorkel and explore sculptures, paintings and much more that you will not expect to find there", explains Gerhard Stelzhammer, sculptor and another organiser. "For example a medicine wheel, underwater music and an underwater kafenion". Every day from 5 – 7 pm there are events with underwater music and more. And for people who don't like to snorkel they can see photos of the underwater exhibition in the Town Hall.
The program this year offers other exciting events: art for children, artists at work, guided art walks and workshops in painting and photography and also music. Like last year there will be a tombola and the Astrini Night. For the tombola everybody can buy a ticket for 2 Euro with a chance of winning a piece of artwork from one of the artists. The lottery will be drawn on 20th of September at the Closing Party. "At the Astrini Night local music and dance will await you. You are invited to come on the 11th September to the statue of Astrini on the sandy Beach", so says Efi Fiotaki.
'Artists at Work' means that you can look over the shoulder of an artist. "So you can see how they work or you can ask whatever you want to know", explains Gail Wareham. One of these artists is Zoran Kocev and he will paint with other artists of the Art Week on the foot path of the Stony Boulevard. So at least the stony Boulevard gets some colour!. Zoran starts on 6th September and every day you can see him or other artists of the Art Week painting the Boulevard from 5 – 8 pm.
The Paleochora Art Week is a non-profit organisation, organised by a few artists and financed with the money of the artists and by the support of local sponsors.
More information you will find at the new webpage www.paleochora-art-week.com or on Facebook.
Press Release Contact
Paleochora-art-week@outlook.com
Efi Fiotaki (Greek), 0030 6981 225898
Gail Wareham, (English) 0030 694 346 3920
Cornelia Lins (German) 0030 28230 41991